The eel (Anguilla anguilla)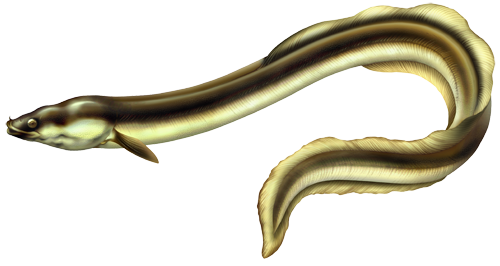 » System
Class of the Actinopterygian order of Anguilliformes family of Anguillid Anguilla anguilla (Linnaeus, 1758)
» Aspect
The eel has a snakelike body, circular and very long section. The body is covered by a skin smooth and viscous, rich in cells secretrices to a thick mucus. The scales were set up late; they are small, oval in shape and included deep into the skin. The eel has a small round eye and a Terminal mouth. The lower jaw is prominent. The body of the eel has no pelvic fins. The pectoral fins, only paired fins are small. On the other hand, the odd-numbered fins (dorsal, anal, caudal) are very long and merge in the tail.
» Size
The eel can reach a maximum size of 1.50 m for a weight of 3 kg. However, males rarely exceed the 45 cm. The current size is more modest and varies between 40 and 60 cm.
» Colors
Eel coloring varies during its growth. In the yellow eel stage, it has a brownish, greenish or yellowish coloration according to habitat (cryptic). The lateral line is hardly visible. At the silver eel stage, back is dark green, the flanks are silver glints and the belly is White Pearl. The lateral line becomes very visible.
» Life expectancy
Its lifespan is 12 to 20 years but in captivity it can reach more than 50 years.
» Food
Eel feeding depends on its stage of evolution. It is a predator in the varied diet. In fresh water, prey consist mainly of larvae of insects, crustaceans, fish but also rodents in large individuals. At sea, the eel eats small fish and crustaceans. During their migration to the Sargasso Sea, the adults do not feed and live reserves accumulated during yellow eels.
» Reproduction
The eel is a catadromous species that lives in fresh water and that it occurs at sea. The male remains 6 to 12 years and females aged 9 to 20 in streams before their migration to the Sargasso Sea. At this time, the colour of the tegument will change, one speaks of silver eels and sexual maturation of individuals will complete the journey. Migration to the Sargasso Sea goes to great depth as well as reproduction that takes place in the spring and summer. The adults die after spawning. After hatching, the larvae follow the Gulf Stream and begin a migration to the rivers of Europe which lasted more than a year.
» Habitat
The eel is a fish whose morals are partially unknown or unexplained. Some eels go back far in fresh waters and others remain in marine waters. The eel is a primarily nocturnal fish that remains buried in the mud or hidden on the substrate during the day. They may exercise a predation out water through the mucus that protects their bodies and the narrowness of the Gill opening which protects the branchial cavity.
» Implantation
Can find the eel throughout Europe with the exception of Eastern Europe where it is absent.
» Techniques
Eel fishing on the bottom with meat bait (earthworms, small fish...).