Roach (Rutilus rutilus)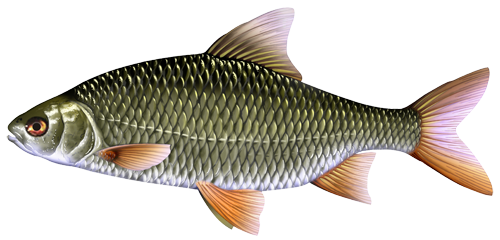 » System
Class of the Actinopterygian order of Cypriniformes family of Cyprinidae Rutilus rutilus (Linnaeus, 1758)
» Aspect
Roach is a very popular fish from the fishermen. It has conventional anatomical characteristics similar to the Rudd and ide. Roach has a spindle-shaped, laterally flattened and covered with large scales, rounded body. The back is curved. The head is small and equipped with a Terminal mouth close. The pectoral fins, dorsal and anal fins have soft rays. The dorsal and pelvic fins have a subegale base and fit to the same level of the body.
» Size
The current size is 10 to 30 cm for a weight of 10 to 200 g. Some individuals may reach 50 cm for a weight of 2 kg.
» Colors
The name of Roach, "rutilus" (red), comes from the red colour of its iris. This feature allows to distinguish it from the ide that the iris is yellow. The back of the Roach has a dark green color to brownish. Silvery sides have bluish reflections, the belly is white with golden highlights. The dorsal fin is grey and the pelvic fins, anal and pectoral fins are reddish orange.
» Food
Roach is omnivorous, it feeds primarily chironomid larvae of insects but also invertebrate small crustaceans, small molluscs, larvae of insects and plants. If there's no other food resources, he became vegetarian which has the consequence that people generally have a smaller average size. They feed throughout the water column: both on the bottom and mid-water or surface.
» Reproduction
The Roach reproduction takes place from April to June/July in shallow areas. The female lays yellow eggs and which will remain hooked to the plants, roots, stones for 1 to 2 weeks. The Roach can hybridize fairly easily with the Roach, bream and bleak.
» Habitat
Roach is a fish that lives benches in stagnant Lakes, ponds, and reservoirs or in waters with low current of the rivers and channels. Its hardiness enables it to well withstand pollution of the environment, brackish water, and the degradation of its environment.
» Implantation
It is widespread in Central and Western Europe from the Pyrenees to the Urals. It is absent from the Spain, the Portugal, Western Scandinavia, Italy, Albania and Greece.
» Techniques
It is a fishable fish year-round thanks in particular to the fishing technique. Priming can be done using flour, bread crumbs. The worm's vase is a bait of choice but it also bites to of many plant baits in summer and animal in cold season. For wholesale keep, hempseed works well but it asks prior priming of a few days. The fisherman will ensure to use a fine line more efficient to catch these fish.