The black bass (Micropterus salmoides)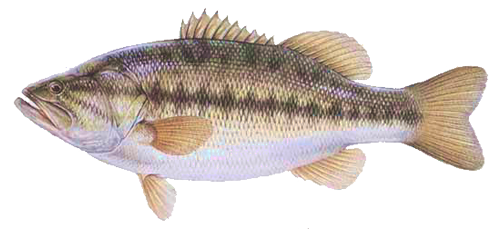 » System
Class of the Actinopterygian order of Perciformes family of Percid Perca fluviatilis (Linnaeus, 1802)
» Aspect
Its french Canadian common name of largemouth bass derives from the Algonquin language: "At - Chi Gane" (the one who fights), in reference to the very combative behaviour of the two species that bear this name. His body is reminiscent of a sturdy pole or a rock bass.
» Size
Its size exceeds hardly 60 cm for a weight of 4 kg.
» Colors
It has a tinge of greenish overall.
» Food
It is a carnivorous fish whose diet varies depending on the maturity. While young seals mainly eat plankton and aquatic insects, adults are tackling rather larger prey such as crayfish, other fish but also frogs and tadpoles. Predatory catfish, it can help to remove these unwanted pieces of waters.
» Reproduction
Spawning occurs in the spring when the water temperature reaches 18 ° C (but some pundits are between 21 and 23 ° C). It would appear that the largest specimens lay first in deeper waters. Females can emit more than a million eggs during the breeding season. Spawning takes place in a bowl prepared by the male on the ground. In addition, they protect eggs and FRY by hunting all predator approaching too close.
» Habitat
Pond, Lake and more rarely rivers. Rest near the surface, in the grass.
» Implantation
This fish is native to North America: St. Lawrence; Great Lakes, Hudson Bay (Red River), and Mississippi River basins. Atlantic drainages from North Carolina to Florida and in the northern part of the Mexico. It is now a little everywhere due to its introduction by humans.
» Techniques
The main species covered by sport fishing, in his defence, are the species say to large and small mouths. It is a voracious fish, but he remains wary. Although it may be taken to the natural bait (fish, pieces of pork rind, to...) All what the size of his mouth that moves may be part of its next meal), fishermen prefer to capture them casting with bait the lure of surfaces that pourfendent the surface of the water. L ' attack and the rushes of the black bass are impressive.