You must be a member to view records
Sun perch (Lepomis gibbosus)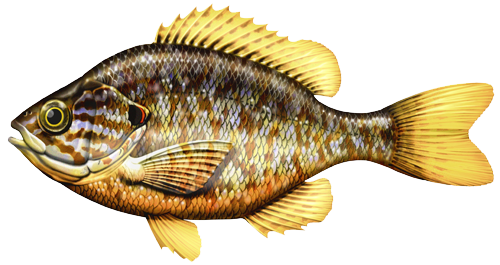 » System
Class Actinopterygii order of Perciformes family of Centrarchid Lepomis gibbosus (Linnaeus, 1758)
» Aspect
Lepomis gibbosus is a discoid fish, the mouth is small, oblique upwards. The dorsal fin is composed of two continuous parts. The operculum is covered with scales and ends with a soft tip.
» Colors
The color of the fish is often very long live predominantly blue and green on the back, the sides are orange-yellow. In males, the end of the operculum has a scarlet task, it is often more dull or even absent in females.
» Life expectancy
Sun perch can live a decade
» Food
This voracious fish is omnivorous. It feeds from almost any, worms, crustaceans, insects, FRY and small fish and other vertebrates as well as fish eggs sometimes.
» Reproduction
Spawning it begins in late spring and can take place until early August. The nest is built by the male in shallow water (15-30 cm) in a protected area by vegetation. The female lays between 1500 and 3000 eggs. The male protects the eggs and FRY. They hatch 3 days after laying. A male may spawn several times in the same nest in a single season with one or more females (consecutively or at the same time).