The stickleback (Gasterosteus aculeatus Linnaeus)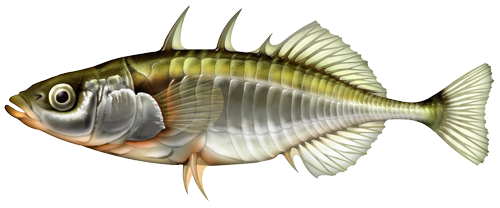 » System
Class family of Actinopterygii order Gasterosteiformes des Gasterosteids Gasterosteus aculeatus (Linnaeus, 1758)
» Aspect
The stickleback is a small fish whose body is elongated and laterally compressed. Along the lateral line, the body is not covered with scales but bony plates (coats of arms). The caudal peduncle is very narrow. Three isolated spines are present on the back in front of the dorsal fin. The snout is pointed and fitted with a Terminal mouth. The pelvic fins are also replaced by two spines.
» Size
The females are larger than males, they are 4-5 cm and males from 3.5 to 4 cm.
» Colors
His back is greenish-Brown punctuated by black, the flanks are grey silver under the lateral line and the underside is whitish. The silver dress of the male takes a vivid red color at the time of reproduction.
» Life expectancy
Longevity varies from 3 to 5 years.
» Food
Its diet is closely related to its size. It consumes worms, small crustaceans, insects, fish eggs and larvae and plants or filamentous algae incidentally.
» Reproduction
The stickleback breeds from April to June depending on the region. The male builds a nest tunnel and agglomerated vegetable-shaped by mucus. It attracts successively several females attracted to the bright livery of the male to its nest where spawning occurs. The male provides guard the nest and parental care (breakdown of eggs, disposals of dead... eggs) to hatching.
» Habitat
The stickleback is a fish found in shallow waters of lakes or rivers. He likes the habitats where aquatic vegetation is present. It is tolerant of brackish waters of estuaries and can meet in salt water.
» Implantation
This fish is widespread in Europe, in coastal and inland waters. His success at the level of its expansion can be explained by the eurythermal and euryhaline individuals behavior.
» Techniques
The stickleback is a small fish size, use small hooks and small bait.