The common DACE (Leuciscus leuciscus)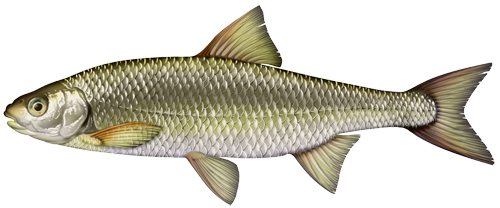 » System
Class of the Actinopterygian order of Cypriniformes family of Cyprinidae Leuciscus leuciscus (Linnaeus, 1758)
» Aspect
The DACE is similar to Chub. Its more slender body, its narrower head and rounded down and more pointed snout to differentiate it from the Chub. The caudal fin is more indented. The outer edge of the anal fin is concave whereas at Chub, it is rounded.
» Size
The current size of the DACE varies between 15 and 20 cm for a weight of 100-200 g. However, the DACE can reach a maximum size of 40 cm with a weight of about 1 kg.
» Colors
The scales of the back of the DACE have a color ranging from dark bluish grey grey, the scales of the flanks are silver and the belly is white. The pectoral and pelvic fins have a yellow color orange while the other fins are grey.
» Life expectancy
Life expectancy is usually 10 to 12 years, but it can reach 15 years.
» Food
As Chub DACE are omnivorous, but mainly worms, molluscs, insects (water and air), algae (filamentous and macrophytes) which are its food.
» Reproduction
The breeding season occurs from March-April-May-June, depending on the latitude. The female releases the eggs on gravel which are simultaneously fertilized by the male. The fecundity of the female is 8 000 to 10 000 eggs.
» Habitat
The common DACE lives in groups, near the surface in common and fresh waters. It has a predilection for streams with a background of gravels and pebbles free of pollution, the water temperature not to exceed 22 ° C.
» Implantation
The DACE are found in Europe from the Pyrenees and North of the Alps to Siberia. It is absent from the Norway and Scotland.
» Techniques
Wary fish, you need a very fine wire. Its fishing is done using natural or artificial flies insects. The coup or fly fishing techniques are most used to fish the dace. The DACE is used as bright.